What is Delta 8 THC?
Simply put, a product that does not create anxiety, paranoia, or fatigue. Many people are discovering a new way to get that buzz they love without the jitters. What happened to the "old weed"?
Due to the high potencies sold at dispensaries controlled by the state, many people are leaving it behind as the increased potencies are creating anxiety, paranoia, and extreme fatigue. Delta 9 THC is becoming less and less popular not due to the plant, but due to extremely high potencies over the past decade. It was once a thing to get the highest percentage of THC available, but, mostly it's so high now that many people who are looking just for a euphoric buzz, pain relief, and anti-anxiety, have to experience extreme "unwanted" side effects such as the ones listed.
In the '60s, the potency was around 3-5% THC, fast forward 50 years, the average is 26% (as high as 38%).
While this may look good on paper, it does not always work as intended. Many people are no longer going to state ran dispensaries. In fact, many dispensaries are now selling Delta 8 THC. The people have spoke. We want something that is similar to Delta 9 THC without the negative effects.
To use Delta 9 during the day is really not an option for a lot of people, if you suffer from chronic pain or extreme anxiety, going to work with red eyes and "out of it" is generally not the best of ideas for people. Delta 8 THC steps in.
Delta 8 THC comes from the hemp plant, not the marijuana plant, this has caused some waves as the government wants your tax money, that simple, can't put it any clearer. So instead of overpaying, then getting charged an extra 30% in taxes, for mostly mediocre products, an extreme amount of like-minded individuals have moved over to D8 as their "go-to" for pain relief, euphoria, and a high that doesn't leave you feeling burnt out, anxious, or paranoid. It is being hailed as the best and most inexpensive way to get what you are looking for without the negative side effects. Our gummies are extremely popular as they are easy to measure the dose, very tasty, and very convenient.
To go to work "stoned" out of your mind is not something most want. Delta 8 THC has become extremely popular simply due to its much more mellow but euphoric feeling, pain relief, and complete lack of paranoia. It is not only for people who have not had THC, people who have been ingesting Delta 9 THC for years have made the switch. Lobbyists for the state ran dispensaries are trying to derail it as they have not found a way to tax it as of yet, so without saying, it is about 50% less expensive, conveniently delivered to your door, and much more tolerable than Delta 9 THC.
Gummies are the best way to go if you need something with no smell, easy to dose, and easy to get access to. At Element Earth we hand-selected the best Delta 8 THC products available. Every product has less than .3% Delta 9 THC, which makes it federally legal, some states are having a tough time with this, due to decreased tax revenue. So, it's all about the revenue, make no mistake. Delta 8 THC has been around since the '60s but overlooked and since hemp was not legal, it basically stayed quiet and out of the public eyes for almost 60 years – until now. With the passing of the 2018 Farm Bill, Delta 8 THC is here and here to stay.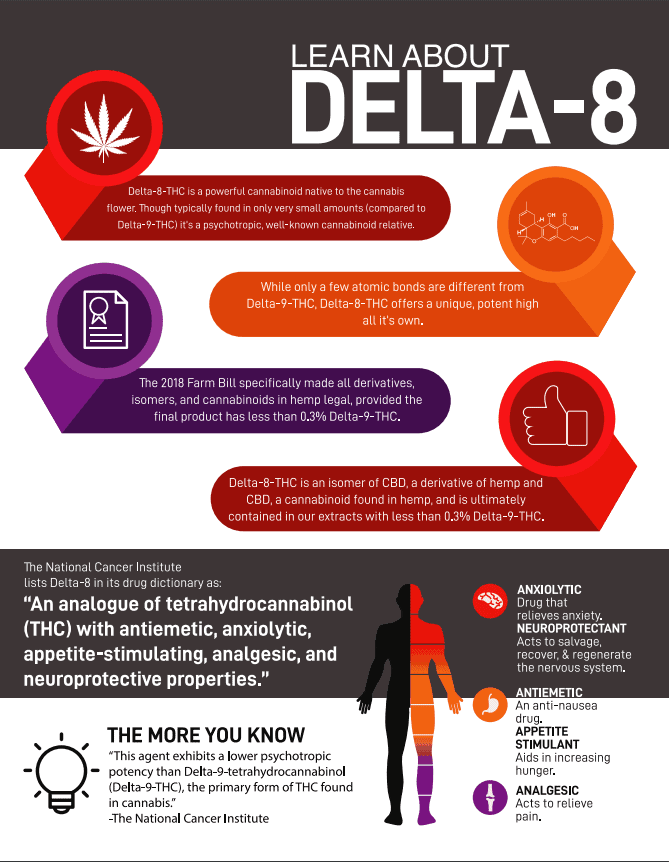 This product contains hemp-derived Delta 8 THC. Delta 8 THC has psychoactive effects when consumed. Delta 8 Gummies contain Delta 8 THC. Use responsibly.
Delta 8 THC is legal according to federal and many state laws if the active THC (delta 9 THC) is under 0.3%. Cannessentials Delta 8 THC is derived from federally legal hemp and does not contain more than 0.3% Delta 9 THC.
* We do not ship any Delta 8 products to Alaska, Arkansas, Arizona, Colorado, Delaware, Idaho, Iowa, Mississippi, Montana, Rhode Island, and Utah.